Category: Land Transfer In Industrial Clusters.
Form: Transfer.
City / Province: Thai Binh
Year: 2068
Details
General introduction.
An Ninh industrial cluster, Tien Hai district, Thai Binh province is planned on agricultural land north of Highway 37B in An Ninh commune, the distance from National Road 37B to the planned boundary is 15m. Extremely convenient location.
+ Area:  498,708,0 m 2
Industrial land area: 374,415,0 m 2
+ Location:
In the south, the industrial cluster is 15m from National Highway 37B
17km from Thai Binh city center
55km from Hai Phong port
+ Legal : Completed legal procedures
Cost of land rent:
Infrastructure rental fee of the Land:
An Ninh Industrial Cluster: 50USD / m2  (Not included VAT)
Industrial Park Management and Maintenance Fee:  USD 0.4 / m2 / year  (Not included VAT)
Fee for using clean water: according to the regulations of the water supplier.
Unit price of electricity for production: according to the general regulations of EVN.
Wastewater treatment fee at the present time: 15,000 VND / m 3
List of industries attracting investment :
Textile and garment, mechanical engineering, handicrafts, agricultural product processing, supporting industries.
Some strong points of An Ninh Industrial Complex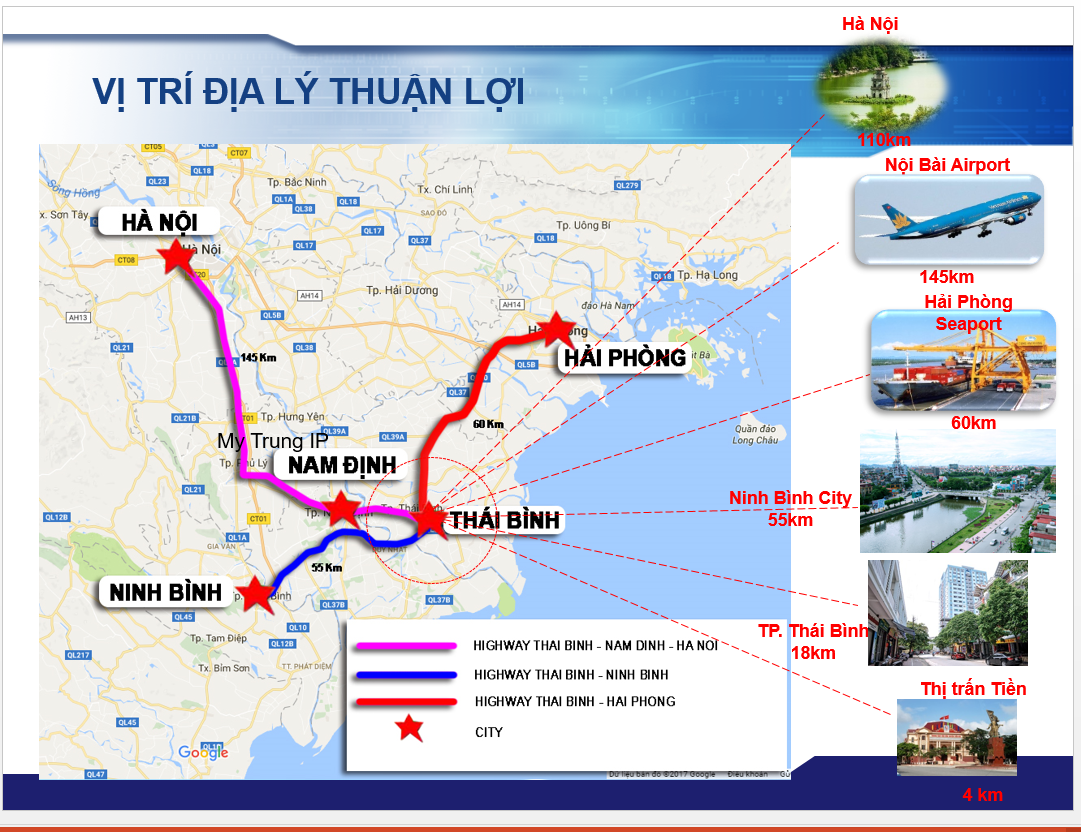 Nguồn: Slide 14 (SLIDES CCN 1.ppt)
Abundant labor force, low labor costs

– Located on Highway 37B

– Near expressway Ninh Binh-Hai Phong-Quang Ninh

Building a clean industrial park model
There is a modern wastewater treatment plant
The factory provides clean water
Nearly 2 new thermal power plants built

Investment incentives:

CORPORATE INCOME TAX (CIT):  20% (2 years exemption from taxable income and 50% reduction of payable tax amount for the next 4 years).
Exemption from rent of raw land for 7 years from the date of being issued Investment Certificate.
VAT: 0% applies to projects that are an export processing enterprise (EPE).
Tax on profit remittance abroad: 0%.

Support from the investor

Free support  when doing initial procedures for the Project
Infrastructure in the land is properly planned and ensures a large space for the development of businesses.
Handing over the land lot site within 15 days from the date  the lessee makes  a deposit to  the lessor.
Supporting procedures and responding to the conversion of production plans and accompanying supporting investors (case-by-case costs will be agreed later).
Support the investor to work with the provincial authorities when problems arise during the operation.
Support and introduce units to design, construct, supply and install machinery and equipment … to ensure quality, ensure progress, competitive prices, have brand name and reputation.
Contact relevant organizations / agencies to  recruit human resources  for Investors .