With the motto of living "Settling in the sun", real estate is always the top concern and real estate investment has gradually become a trend. Anderson Park urban area is the perfect choice for smart investors.
Real estate investment – why become a trend?
Due to the impact of the Covid-19 epidemic, the economy suffered many influences, and investors were also gradually more strict in choosing investment channels. A profitable and secure investment channel will have many advantages. The world over the past time has witnessed a surge of gold prices and many new records, which has attracted many "golden arms" in the field of investment. However, in terms of stability, many experts still perceive new real estate as a "fertile exchange", is one of the methods to bring the most stable profits. Experiencing many fluctuations in the economy, real estate is considered a safe, profitable and highly liquid place to keep capital. Besides, this investment also brings many other benefits.
Firstly, "living in the sun" is the destination not only for anyone, besides investing in apartments to enjoy life, even experts need to find a qualified, professional office, help boom. strive to be creative as well as increase quarterly business numbers.
Second, real estate investment provides a source of year-round income. A smart market expert will certainly never let the capital stand still but will find many ways to make a profit, real estate investment is a wise choice. Just by "surfing" on a piece of land, an apartment or rent to someone else, there is a stable source of income.
Finally, real estate investment is the solution to effective property control. Although the real estate market is volatile, it will not decrease over time. Therefore, many economists advise that if there is a "hot head" about the times, please "touch your hands" immediately on the real estate market.
Anderson Park – investment opportunities have 1-0-2
Anderson Park is a 1-0-2 investment opportunity for investors. Located at the intersection between Nguyen Thi Minh Khai and Highway 13, this place inherits the outstanding development of the city's traffic infrastructure. Moreover, this is also one of the most developed places in the area, with a full range of diverse and modern utilities around.
Located in Binh Duong, "industrial capital" in the South, Anderson Park urban area becomes an effective solution to the problem of lack of luxury apartments for domestic and international experts. With Anderson Park, many people will no longer have to see "Binh Duong morning, Saigon evening", there will be no serious traffic jams at the gateway between cities.
Built according to the trend of mini-urban, in addition to the prime location in Thuan An, Anderson Park possesses impressive advantages to create a modern and model life. The project spends more than 70% of the area on green space, towards green living values, healthy living, close to nature for future residents. Moreover, apartment owners also enjoy the benefits of modern commercial service area, shophouse, resort-class waterfall swimming pool, gym, BBQ, outdoor sports area, park, jogging path … Tat Both ensure a full life, full experience.
In particular, the "golden potential" Anderson Park also develops an Officetel model with 672 units in blocks C and D, from floors 3 to 14. Officetel is a multi-purpose apartment model, combining offices with guests. Hotel with standard area of ​​32m2 – 50m2 and can open apartments if you want. This is an Officetel licensed project, promising to bring a comfortable and comfortable working environment to the owner.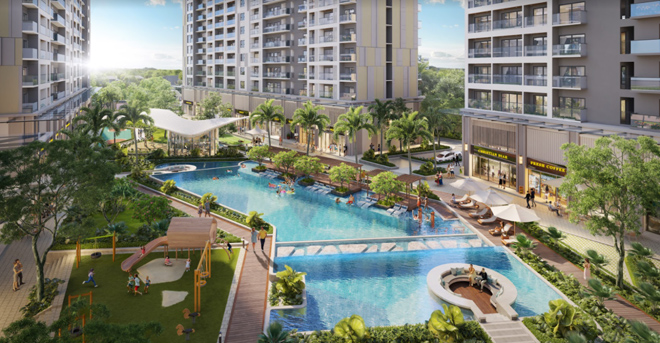 In addition, the safety of residents will be ensured by security cameras, corridor protection, security at parking lots, elevators, magnetic lift cards, smart locks …
It can be confirmed that investing in Anderson Park is a wise decision of a smart investor.